Best Western Coral Hills
Welcome to the Best Western Coral Hills where guests will find the best in customer service, amenities and accommodations all for an affordable rate. Guests staying at this Saint George hotel will be near four national parks and the St. George Historic District.
The Best Western Coral Hills proudly offers 98 spaciously-appointed guest rooms each complete with cable satellite television with HBO® and Disney® and free high-speed Internet access. Luxury suites with spa are also available. Guests will wake each morning to a complimentary full, hot breakfast. This Saint George hotel's additional amenities include an outdoor heated swimming pool, spa, water fountain & children's wading pool (March-October) and fully equipped exercise facility.
The Best Western Coral Hills is close to a variety of Summer and Winter activities including golfing, hiking, mountain biking and fishing. Guests often choose this Saint George hotel when attending the Saint George Marathon, Ironman, and soccer events. The Dixie Convention Center and the Tuacahn Outdoor Theater are also conveniently near this hotel.
For superior customer service and a convenient location in Saint George, make a reservation at this Utah hotel today.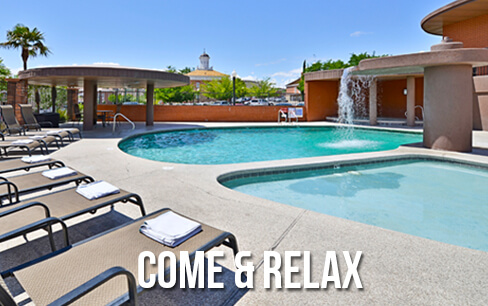 Packages & Special Offers
At Best Western Coral Hills, we offer a variety of entertainment and golf packages to enhance your vacation. Click here to view our packages!
Sunset Time Lapse at Zion National Park
Beautiful sunset in Zion National Park
Reasons To Visit St. George
St. George is like the Vegas of Utah, except a lot less wild and a lot more beauty! It's the place everyone wants to visit or move to. With moderate winters, Zion right down the road (basically) and over 300 days of sunshine, it's hard to imagine why someone wouldn't want to come to St. George for at least a weekend!
Things To Do
St. George is full of fun things to do, some of those things are events that the community holds, some are just out there for you to enjoy. For example, once a month on the first Friday, St. George holds "George Street Fest". This is an event that helps local businesses by allowing them to have booths for visitors to come and check out. There is live music, food trucks and so much more! Every George Street Fest is unique in its own way.
There are a lot of things for kids to do here as well, with water parks, Fiesta Fun, Laser Mania, The Children's Museum and more! You'll never run out of things for the kiddos to do!
Places To Eat
This is something that St. George prides itself on. There are a plethora of different restaurants that are locally owned or franchised. Either way, there are so many options for dining that it makes it nearly impossible to choose where you want to eat! What keeps a lot of visitors coming back are our locally owned and operated restaurants, such as Cappelettis or Durangos! Dining in St. George is a wonderful experience.
Sights To See
One of the main reasons people keep coming to St. George is for it's captivating and breathtaking landscapes. Zion National Park, Bryce Canyon and Snow Canyon State Park are all within a very short distance of St. George. Making this one of the top places to stay when you are looking for some good family fun adventure and stunning sights.

Photo Credit: Lindsey on flickr
Relaxation
St. George is home to some of the best spas in Utah, with amazing staff that are extremely kind, caring and professional. Not only does that help with the relaxation side of things, but did someone say golf? That's right, here in sunny St. George golfing is a year round sport due to our mild climate in the winters. So for top notch relaxation, it's no wonder people choose to visit St. George.
There are many more reasons people choose to visit St. George, it's a small town with a big city feel, all while maintaining the beautiful natural surroundings.