st. george & surrounding areas
Packages & special offers
At Best Western Coral Hills, we offer a variety of entertainment and golf packages to enhance your vacation. Click here to view our packages!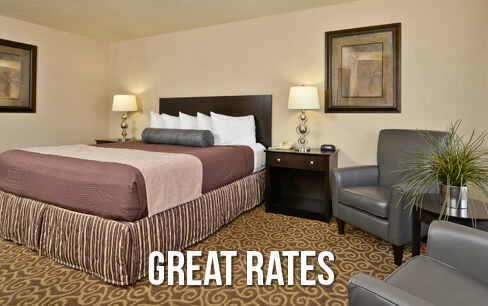 Trip-Planner for an Exciting Family Vacation
Planning a family vacation can be little difficult as there are too many options, but not much time, as each member in a family will have their own priorities and problems. And, a family vacation is all about bonding with family, but it should not cause conflicts. A Family vacation is an opportunity for families to bond and for kids it's a learning experience and exploring and learning about new places, history and culture of different places and widens their horizons. However, affordable vacation is very important as well as it should not sour your pocket.

Photo Credit: Richard Terborg on flickr
Fun Vacation:
Planning a family vacation is fun as you plan it together. Balancing everybody's opinion and choosing the final destination is the beginning of the fun factor in your vacation. But, sometimes people get confused to choose from a wide choice, for them our suggestion is to go with all-inclusive vacation plan like a beautiful beach, hotel with an ocean view rooms, resort, etc. You can also enjoy scuba diving, golf, and several authentic dining options. Select few vacation spots, and in that list choose that everyone agree to go for an ultimate family vacation.
No Idea where to go:
Many families have no idea where they exactly want to go, and also their lifestyle and daily activities are the reasons for not able to spend some quality time with family. The best thing is you can spend quality time at any time that you want either in spring break or in summer, etc. Also, it is advisable to plan a vacation during non-peak period that way you can save a lot of money on the special deal and vacation packages.
You must plan for a vacation way ahead before you actually go on vacation, this can help you get good deals and also you will be confident as everything is ready for a great vacation. We suggest do not wait for last-minute deals. Enjoy your lovely family vacation with a perfect planning. .
How To Stay Organized In Your Hotel
Staying organized in a hotel can be difficult at times, and an unorganized hotel room makes for a pretty stressful vacation. So here are some tips to help you stay organized in a hotel room.
Packing List
Make a list of EVERYTHING that you need to take with you before you even think of starting to pack. This will help you to stay organized as well as help you when you are packing up to leave to know exactly what you may be forgetting. Make sure to make a duplicate copy of this list in case you lose the original.
Organizers
There is seriously not a better invention that packing aids. Keeping each like-items in their own space will save your life with organization.
Small Stuff
Along the same lines as using packing aids, make sure you organize you smaller possessions into their own separate part of the baggage.
Extended Stays – UNPACK
Unpacking when you are staying longer than a few days is so important! Many people will try to keep everything in their baggage and this just causes a mess. Just unpack and save yourself a ton of hassle.
Choose A Good Hotel
Choose a hotel with good storage, dressers and organizers. This will help you to unpack everything and not make a complete mess.