St. George Downtown Farmers Market
The sudden push to buy produce and other products from local sources is more than just a fad. It's one of the best ways to help the environment, contribute to the local community, and get the freshest, healthiest products. Being able to enjoy locally sourced items is easy thanks to the St. George Downtown Farmers Market.
About the Farmers Market
Every Saturday throughout the summer, beginning on Saturday, May 13th and concluding on Saturday, October 28th, the Downtown Farmers Market will take place. Each Saturday, it will open at 8:00 am and close at 12:00 pm.
The Downtown Farmers Market will be held at Ancestor Square. The exact location is 2 W St, George Blvd.#22- St. George. Over thirty local vendors will open tents and stands to sell their locally grown and made products. From vegetables and eggs to arts and crafts, there will be something for everyone at this location.
Products Available
Local vendors from the areas of Iron and Washington Counties will be selling organic produce, live plants, free-range eggs, grass-fed beef, homemade food items, handmade crafts, photography, and much more. Everything available has been either made or grown locally, so shoppers can be sure they are getting the best products while keeping their money in the community.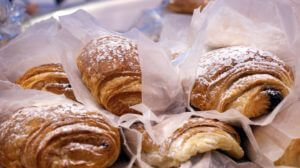 Market Entertainment
To support local musicians, the center stage at the Farmers Market will feature live bands and musicians. These performers are from the local area and are sure to entertain. The lawn around the stage will be open to sit and enjoy the music. Shoppers can also listen to the music as they purchase their goods from the market.
Shop Smart, Support Local Businesses
The St. George Downtown Farmers Market at Ancestors Square is the perfect place to do the weekly shopping, purchase home décor, and find unique gifts for friends and family. Shopping local means finding things that the big box stores don't have and feeling proud of the purchases made. Get in on the action by shopping at the St. George Downtown Farmers Market.
Photos by Gemma Billings