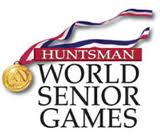 On October 3rd The Huntsman World Senior Games will come back to Saint George to celebrate its 25th year.  Athletes (men and women) 50 and older will be coming from all over the world to socialize, greet, and compete in a variety of competitions such as (Softball, Volleyball, Basketball, Golf and many more events.)
 Many of the athletes have been competing in the games for years. The hope is to always win a medal but most of all about about friendship and seeing friends once again.
We look forward to having participants coming back to our hotel once again and wish everyone good luck during this 2011 Huntsman World Senior Games.
The Opening Ceremonies are on October 4th at 7:00 P.M. at The Dixie State College Hansen Stadium. The Special speaker will be seven-time Olympic medalist Shannon Miller!  Admission is free so come and celebrate this special event with all of these great athletes!
TIP:   If you are able to plan around this event try to arrive after the games conclude.  The slow season for the St. George area begins after the games conclude and rates tend to go down slightly