st. george & surrounding areas
Packages & special offers
At Best Western Coral Hills, we offer a variety of entertainment and golf packages to enhance your vacation. Click here to view our packages!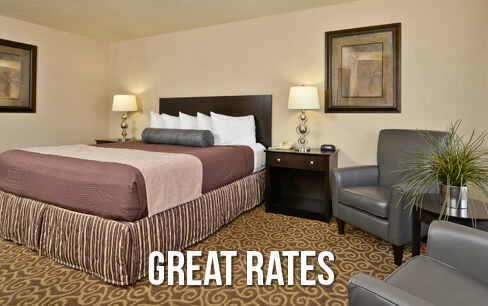 Trip-Planner for an Exciting Family Vacation
Planning a family vacation can be little difficult as there are too many options, but not much time, as each member in a family will have their own priorities and problems. And, a family vacation is all about bonding with family, but it should not cause conflicts. A Family vacation is an opportunity for families to bond and for kids it's a learning experience and exploring and learning about new places, history and culture of different places and widens their horizons. However, affordable vacation is very important as well as it should not sour your pocket.

Photo Credit: Richard Terborg on flickr
Fun Vacation:
Planning a family vacation is fun as you plan it together. Balancing everybody's opinion and choosing the final destination is the beginning of the fun factor in your vacation. But, sometimes people get confused to choose from a wide choice, for them our suggestion is to go with all-inclusive vacation plan like a beautiful beach, hotel with an ocean view rooms, resort, etc. You can also enjoy scuba diving, golf, and several authentic dining options. Select few vacation spots, and in that list choose that everyone agree to go for an ultimate family vacation.
No Idea where to go:
Many families have no idea where they exactly want to go, and also their lifestyle and daily activities are the reasons for not able to spend some quality time with family. The best thing is you can spend quality time at any time that you want either in spring break or in summer, etc. Also, it is advisable to plan a vacation during non-peak period that way you can save a lot of money on the special deal and vacation packages.
You must plan for a vacation way ahead before you actually go on vacation, this can help you get good deals and also you will be confident as everything is ready for a great vacation. We suggest do not wait for last-minute deals. Enjoy your lovely family vacation with a perfect planning. .
How To Stay Organized In Your Hotel
Staying organized in a hotel can be difficult at times, and an unorganized hotel room makes for a pretty stressful vacation. So here are some tips to help you stay organized in a hotel room.
Packing List
Make a list of EVERYTHING that you need to take with you before you even think of starting to pack. This will help you to stay organized as well as help you when you are packing up to leave to know exactly what you may be forgetting. Make sure to make a duplicate copy of this list in case you lose the original.
Organizers
There is seriously not a better invention that packing aids. Keeping each like-items in their own space will save your life with organization.
Small Stuff
Along the same lines as using packing aids, make sure you organize you smaller possessions into their own separate part of the baggage.
Extended Stays – UNPACK
Unpacking when you are staying longer than a few days is so important! Many people will try to keep everything in their baggage and this just causes a mess. Just unpack and save yourself a ton of hassle.
Choose A Good Hotel
Choose a hotel with good storage, dressers and organizers. This will help you to unpack everything and not make a complete mess.
Plan Your Summer Trip
Utah has some of the most beautiful national parks in the country. Load up in your family car for a fun-filled three day vacation to Zion, Bryce, and Capitol Reef in the southern part of the state.
Zion
The first stop is Zion. Take the park's free shuttle to sit back and enjoy the beautiful scenery as it follows the Virgin River. You'll see some incredible emerald pools and majestic sandstone cliffs that are an amazing site to behold. Stretch your legs and take a hike on one of the many trails you'll find in the park. The Visitor's Center is where you can catch the shuttle and also has some very helpful information on hiking and camping. Restrooms and first aid are available too.
Bryce
The next stop is Bryce Canyon, with its surprising colorful rocks and easy walking trails. Stretch your legs and visit the Pink Ledges Trail in Red Canyon. Don't miss the astonishing sunset at Paria View. You may be one of the lucky ones to catch a glimpse of a peregrine falcon.
Capitol Reef
You and your family will love this less crowded park. Make sure you make time to hike the Sunset Point Trail. There's a bench at the end of the trail where you'll be able to sit and marvel at the Capitol-like domes, Moenkopi towers, and natural bridges. For an unforgettable view, be sure to see Sulphur Creek joining the Fremont River.
Don't forget your camera, sunscreen, comfortable walking shoes, and light jackets. You might even want to pack a picnic lunch with extra bottles of water. These parks can get very warm during the daytime, but will cool off during the evenings.
The Bighorn Sheep of Zion National Park
Zion National Park is home to many different unique and beautiful animals. Animals like the California Condor, Mule Deer, and the Western Rattle Snake call Zion National Park home all year long. Those who will be visiting Zion National Park may get the chance to see another animal that can't be seen in many places.
The Bighorn Sheep of Zion National Park leave guests staring in awe as they precariously maneuver their hooved feet along steep and narrow cliffs. Guests who see these impressive sheep often recall the sighting as one of the most memorable things during their trip. Though not often talked about, Bighorn Sheep are just one more incredible thing to see while in the amazing Zion National Park.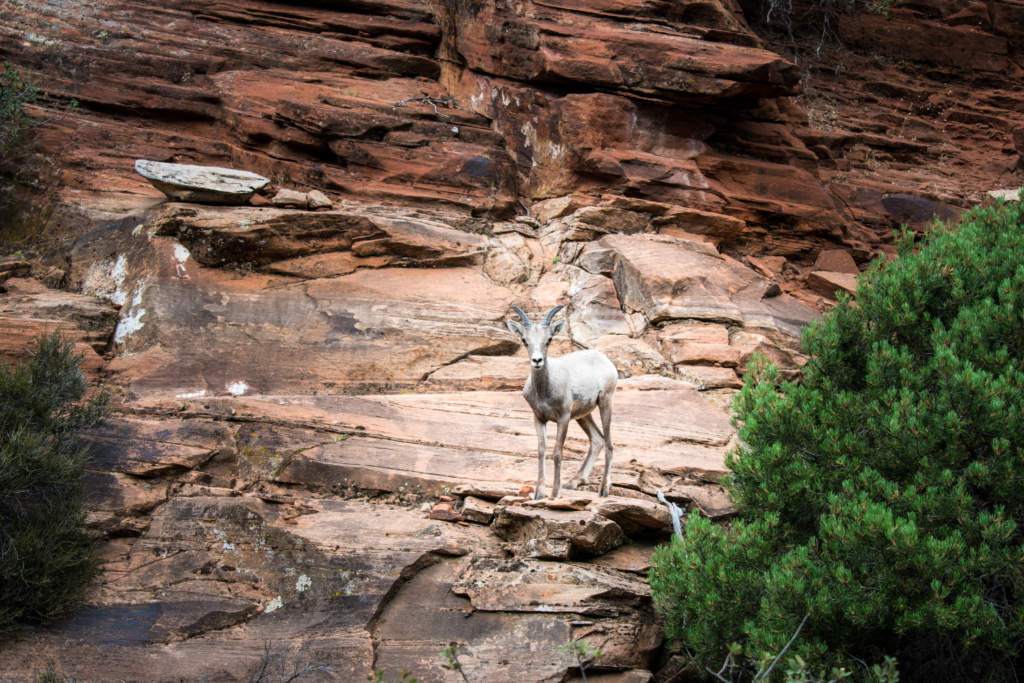 About Bighorn Sheep
Bighorn Sheep are some of the most unique creatures in Zion National Park. They are closely related to Rocky Mountain Bighorn Sheep, but the Bighorn Sheep in Zion National Park are built for the hot, dry weather of Zion. They have long legs, small bodies, short coats, and can survive on only the water from the vegetation they consume for days at a time.
Unlike most horned mammals, where only the males possess horns, both male and female Bighorn Sheep have horns. The female's horns are shorter and less robust while the male's horns are long, thick, and curve around their heads. These horns are used for ramming into other males to prove dominance.
For many years, the population of Bighorn Sheep in the southern Utah area was dwindling. In the late seventies, they were reintroduced to the area to return the native species where it belonged and, ever since, the Bighorn Sheep population has been booming.
Where Bighorn Sheep can be Found in Zion
While Bighorn Sheep may be seen on many mountains and cliffs, there are a few specific areas where guests are more likely to see them. In the areas of the Zion- Mt. Carmel Tunnel and the East Entrance of the park, it is common to see the Bighorn Sheep perched high on a rocky cliff, grazing on vegetation or, resting in the shade at the base of a cliff. Drivers should take care in these areas since Bighorn Sheep may cross the road unexpectedly.
When to Observe Bighorn Sheep
Bighorn Sheep are in the area year-round, but the best time to view them is once the cool weather moves in. With the peak of the mating season beginning in October, guests can hear them slamming their horns into each other to establish dominance, secure mating rights, and claim their territory. It is an incredible sight to see these creatures fighting precariously on a cliff's edge.
For a dose of cuteness, travelers can plan their trip around the arrival of baby Bighorn lambs. New born lambs can be seen from mid-January to late April since there is a six-month gestation period after the peak mating season in October. No matter what time of year visitors come to Zion, they will be delighted by the sight of these majestic, beautiful, and interesting animals.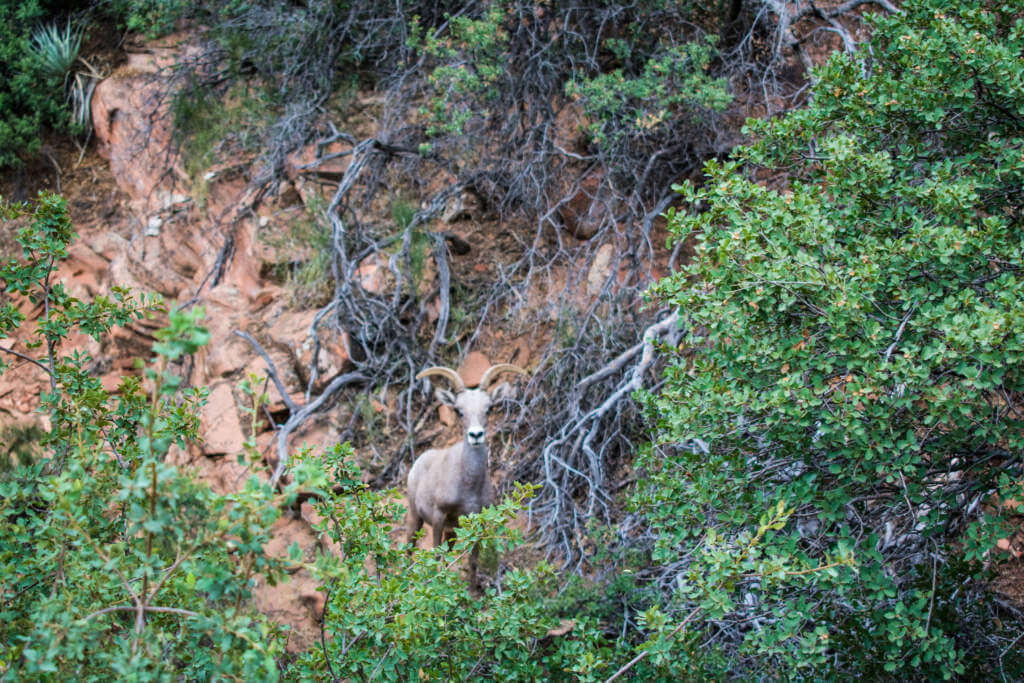 Visit the Bighorn Sheep of Zion
By observing the Bighorn Sheep of Zion from a safe distance, guests will be able to have a better appreciation of the unique wildlife of Zion National Park. Whether guests are visiting the area solely to observe the wildlife or they have come for outdoor activities but stumble across the wildlife in the process, Bighorn Sheep sightings will be a highlight of the trip.