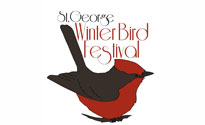 Date: Thursday-Saturday, January 26-28
Time: January 26 6:00-8:00 pm
          January 27- 7:00 am-8:00 pm
          January 28- 7:30 am-4:30 pm
          Banquet – 6:00 pm-9:30 pm
Fee:  FREE General Admission
         $20.00 per person for banquet
Location: Tonaquint Nature Center & Park
                1851 S. Dixie Drive
Don't miss the Annual St. George Winter Bird Festival. This exciting three-day event offers an opportunity to explore and learn more about the significant natural areas of Southern Utah's birding hot spots. There will be field trips, workshops, presentations and bird walks throughout the weekend. On Saturday evening there will be a banquet highlighting keynote speaker, Mr. Chris Parrish at our sister property the Best Western Abbey Inn, only minutes away. Mr. Parrish is of the Peregrine Fund and a condor expert. A complete schedule of events and times can be viewed and downloaded at www.sgcity.org. Pre-registration for the banquet is required by Friday, January 20. Register at the St George Recreation Center, 285 S. 400 E., online at www.sgcityrec.org, or call 435-627-4560.