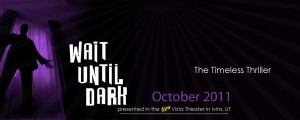 Broadway West Theater brings back this 1968 Audrey Hepburn thriller! A cool-as-ice psychopath smooth talks his way into the home of an unsuspecting blind woman. What Susie doesn't know is, she's harboring a dangerous prize, and he'll use every trick to get it!
Spend an evening on the edge of your seat and get your tickets to this thrilling show starring Darby Meadows, Skyler Scott, Bryant Clair Larsen, Alex Gubler, Mitch Glass and Brooklyn Richins. Directed by Josh Scott.
WAIT UNTIL DARK performs SEPT 29-OCT 29 on Monday, Thursday, Friday and Saturday evenings at 7:30 pm.
TICKETS call 773-1096 or get them at the door. Tickets are just $15 for adults, $12 Senior and Student and $8 child. WAIT UNTIL DARK performs in the new 300 seat in the round theater inside the Vista School in Ivins
Located only 20 minutes from Best Western Coral Hills