Whether you're traveling for business or leisure, you'll be comfortable in your well-appointed guest room at Best Western Coral Hills. Prepare a snack in the microwave and relax in front of the 42″ television. Enjoy the bath amenities, and then settle in for a peaceful sleep on your king sized Serta® pillow top mattress. All rooms have a refrigerator. A limited number of rooms also provide a private balcony and DVD player.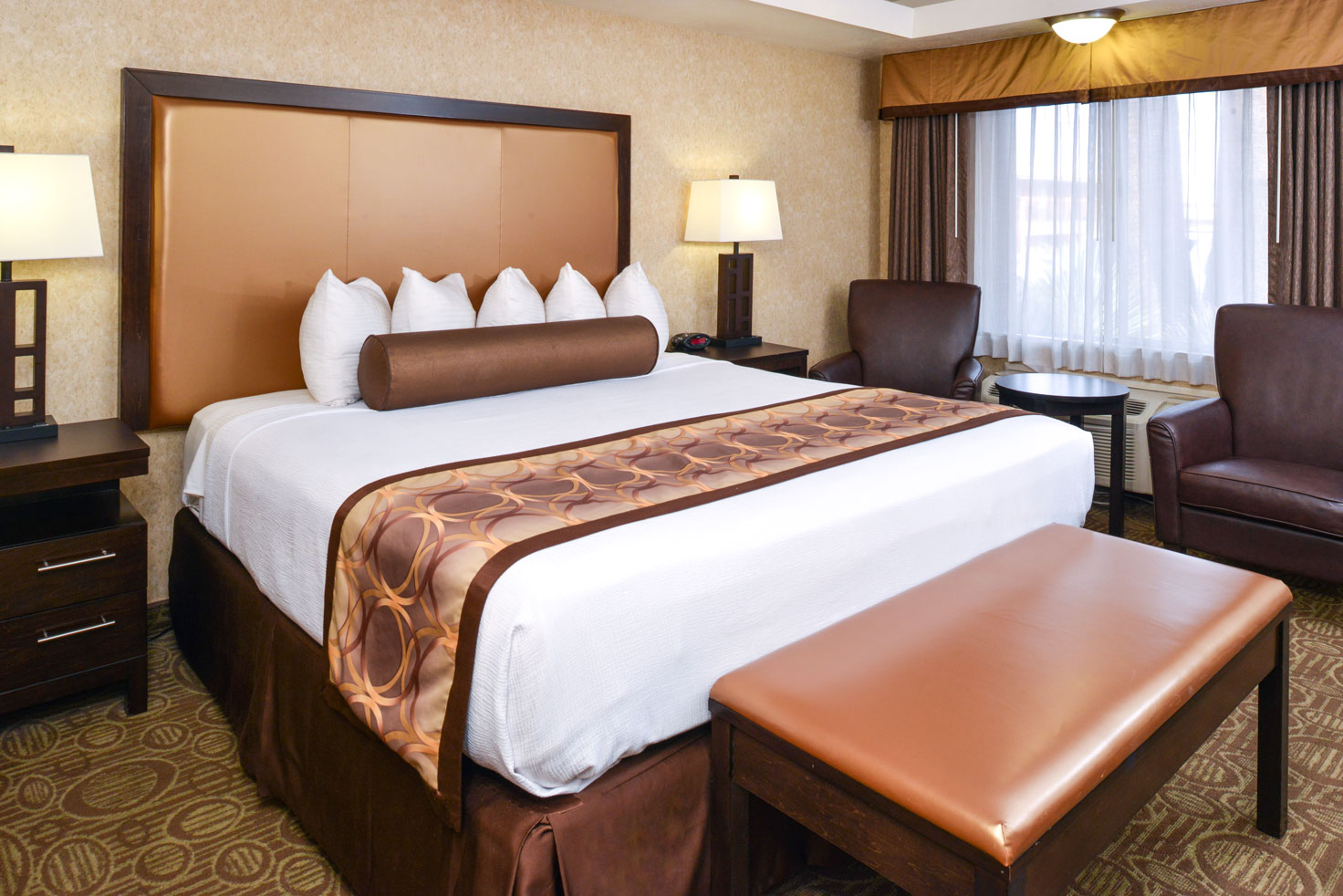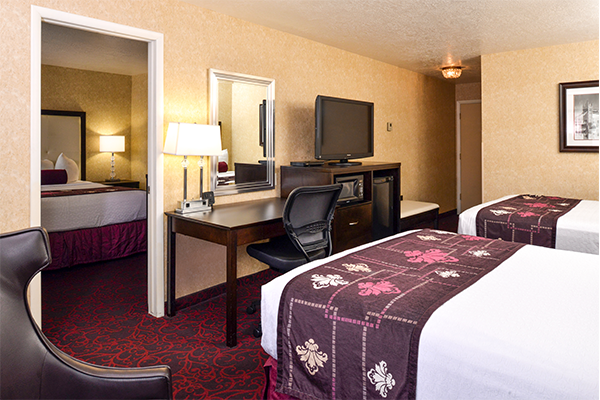 Our Deluxe Double Queen rooms vary in their style and decoration. But each room will include a refrigerator, microwave, and coffee maker. Catch your favorite show on one of our 42-inch televisions with HBO® and Disney® . A limited number of rooms also provide a private balcony and DVD player. To keep your family or group closer together Adjoining rooms may be requested, but can not be guaranteed.
Insiders information: Guest rooms in the North Wing and Front Sections of the hotel have extra room to breathe and can accommodate a rollaway bed. East Wing rooms are just down the hall from the indoor pool, spa and exercise room.
Our King Junior suites are perfect after a good travel or long work day. Enjoy unwinding without leaving your room with our jetted, tubs and eternity mirrors you can unwind while watching your favorite television program on the 42″ television. There are Over 80 channels available including HBO® . These suites also include a DVD player, refrigerator, microwave, and coffee maker.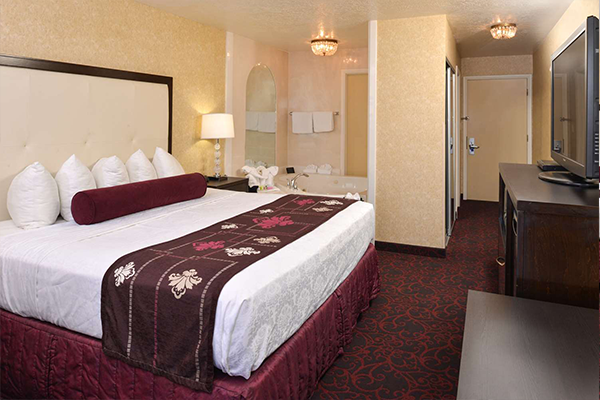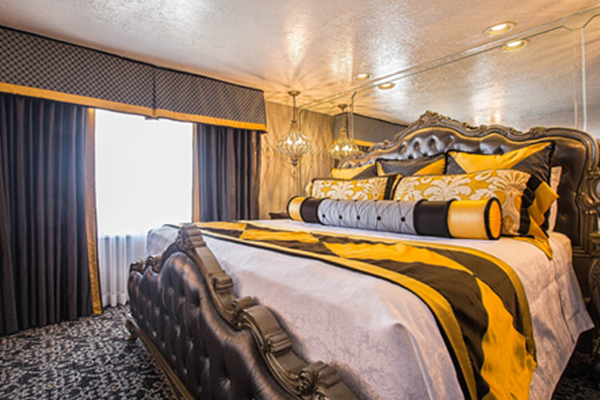 ANNIVERSARY/ HONEYMOON SUITE
The most relaxing Anniversary Suites in town are found at the Best Western Coral Hills which are beautifully decorated for a special occasion or get-away. The large, heart-shaped spa-tub with eternity mirrors perfectly accommodates two; and faces a 50″ television. The TV is on a swivel to allow guests to watch and over 80 channels from the in-room spa or bed while also enjoying the electric fireplace. Or enjoy a movie using the DVD player. Rest will come quickly when laying on the Serta® , pillow top mattress. A Sweetheart Package can be included with any room type to also include a dozen roses, a couples massage, fire place and a five course dinner for two.
Guest rooms at the Best Western Coral Hills are designed with your comfort in mind and features all the amenities you need for an enjoyable stay. Save money, rent a family suite, instead of two full rooms, that also includes a refrigerator, microwave, and 42″ television with and DVD player. The family suite comfortably sleeps six persons on our Serta® pillow top mattresses. It offers two queen beds and bathroom in the first bedroom and has an additional private sleeping room with a king bed and television.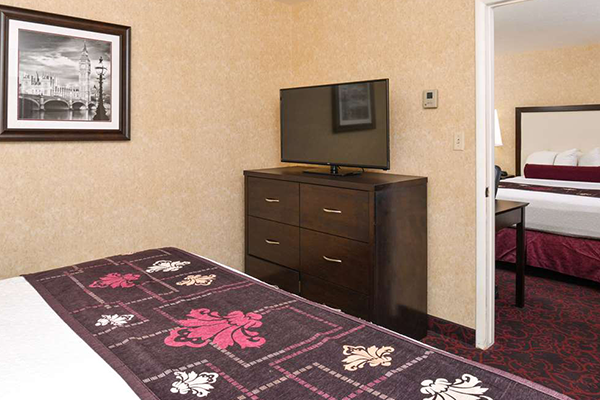 • Microwave
• Refrigerator
• In-Room Coffee Maker
• 42″ Flat Screen Television
• Free Wifi
• Free HBO
• Full Breakfast
• Hair Dryer
• Free Parking
• Voice Mail
• Iron and Ironing Board
• 100% Non-Smoking Rooms
AVAILABLE UPON REQUEST BUT NOT GUARENTEED
• Cribs (Fee)
• Rollaways (Fee)
• Connecting Rooms
• Accessible Rooms
• Elegant Romantic Suites
• Jetted Tubs
• Limited Pet Friendly Rooms (Fee)
At Best Western Coral Hills, we pride ourselves in attentive, friendly, and courteous service. We hope you will feel welcome to inquire about your individual requests so that we have the opportunity to make your stay exceptional!
Whether it be a rollaway bed, a crib or simply a fresh bottle of cold water, it's our goal to meet your needs with a welcome smile.. 🙂